There has been a change in the media whore stakes since the May elections. The new poster child for the Conservatives appears to be Mandy Thomas-Atkin.
'Publicity' Pru Moore must be devastated, Since becoming the cabinet member for leisure and sustainabilty, barely a week would go by without Pru's face being thrust upon us, but now it seems that Mandy has pulled rank in her role as MSDC Chairman and will be taking on the publicity duties.
Here are just some of the photos in which Mandy has appeared in recent weeks
: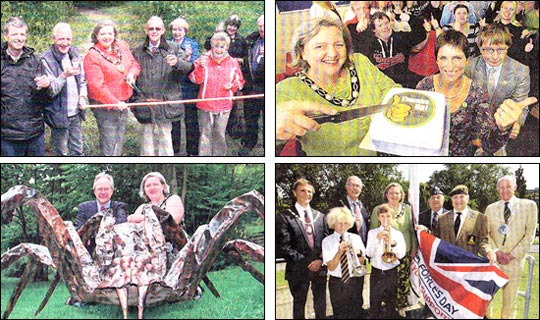 I think we'll invite Mandy round to the Burgess Hill Uncovered Offices for the grand opening of a toilet seat.
It's rather boring seeing 'high profile' councillors pictured in the local press at various events. Does anyone actually care that they attend? Why not get in some pretty girls(and boys) instead? What's with all those stupid chains that councillors wear around their necks? It's a rather dated thing, are we supposed to think that they are royalty and treat them accordingly?
With Mandy's husband Chris conveniently being the Chairman of Burgess Hill Town Council, expect to see this 'power couple' pop up all over the local media over the next 12 months *yawn*
Can we have Pru Moore back please?